Part One:
Why is it important to know the true nature and character of God?
Back in 1882 atheist philosopher Friedrich Nietzsche famously declared that "God is dead." Ever since then the gate-keepers of Christian orthodoxy have been caught up in a never-ending philosophical debate trying to prove God's existence. Today there are many well-known Bible apologists like Ravi Zacharias, Josh McDowell, Lee Strobel, and even Jordan Peterson, taking up the case for God, while on the other side are atheist superstars like Sam Harris, Richard Dawkins, Daniel Dennett, and the late Christopher Hitchens. At one time in my life I was very interested in the back-and-forth between these two camps and I thought it was very important for "our" side to win, so I read the books and watched the debates on YouTube and studied all the clever little anecdotes that popped up on social media in support of the existence of "God."
But then, since around the Summer of 2014, I began to grow weary of this debate, primarily because I was confronted with a more intriguing question! Instead of asking, "Does God exist?" I began to ask, "What is God like?" This is a very important question in itself, because if we "prove" the existence of a God that we get wrong then we have simply created an idol. These days I am beginning to think that it may perhaps be safer to not believe in God at all, than to believe in a false God of our own making!
So what is God truly like? What is the true nature and character of God? I think there are two crucial parts to this question. Why is it important to know the true nature and character of God, and then how can we actually know for sure what God is like? I'll cover the WHY in this post and then cover the HOW as this series continues.
My belief is that before Christians even try to convince atheists of anything we need to resolve this question among ourselves, because if we are getting God WRONG then atheists are actually RIGHT to reject our arguments. So, speaking as a Christian to all my fellow Christians I ask you, why is it so important for us to recognize and understand the true nature and character of God? What does OUR faith tradition have to say in answer to the WHY part of this question?
I think a good place to begin with is the testimony of the Apostle Paul. In his letter to the Ephesians, beginning in chapter four, Paul explains what it means to be a Christian in contrast to the way of the pagan Gentiles:
I therefore, a prisoner for the Lord, urge you to walk in a manner worthy of the calling to which you have been called… Now this I say and testify in the Lord, that you must no longer walk as the Gentiles do, in the futility of their minds. They are darkened in their understanding, alienated from the life of God because of the ignorance that is in them, due to their hardness of heart… But that is not the way you learned Christ! –assuming that you have heard about him and were taught in him, as the truth is in Jesus, to put off your old self, which belongs to your former manner of life and is corrupt through deceitful desires, and to be renewed in the spirit of your minds, and to put on the new self, created after the likeness of God in true righteousness and holiness.
According to Paul it is Jesus who brings humanity back to the original intention of God. We were created "in the image and likeness of God" and through Jesus, by putting on the new self, we can once again be like God. Paul continues:
Therefore, having put away falsehood, let each one of you speak the truth with his neighbor, for we are members one of another… Let all bitterness and wrath and anger and clamor and slander be put away from you, along with all malice. Be kind to one another, tenderhearted, forgiving one another, as God in Christ forgave you. Therefore be imitators of God, as beloved children. And walk in love, as Christ loved us and gave himself up for us, a fragrant offering and sacrifice to God.
To be like God is to put away all wrath, anger, and malice and to walk in love. Paul is very clear that he is simply teaching the same thing as Jesus. It was Jesus who perfectly imitated God, and it was Jesus who called us to imitate Him! Beginning with the Sermon on the Mount Jesus delivered a radical new perspective on the nature of God and then invited us to live as His children!
"Blessed are the peacemakers, for they shall be called sons of God.
(Matthew 5:9)

"You have heard that it was said, 'You shall love your neighbor and hate your enemy.' But I say to you, Love your enemies and pray for those who persecute you, so that you may be sons of your Father who is in heaven. For he makes his sun rise on the evil and on the good, and sends rain on the just and on the unjust. For if you love those who love you, what reward do you have? Do not even the tax collectors do the same? And if you greet only your brothers, what more are you doing than others? Do not even the Gentiles do the same? You therefore must be perfect, as your heavenly Father is perfect.
(Matthew 5:43-48)
In these statements Jesus is describing the true nature of God and also inviting us to be just like Him. If we were to ask Jesus, "Why is it important to know and understand the true nature and character of God?" Jesus would respond by saying, "Because you are created to be like God!" Jesus didn't merely teach these truths, but He actually modelled what this new way of being human was supposed to look like, and then He invited us to do the same:
So Jesus said to them, "Truly, truly, I say to you, the Son can do nothing of his own accord, but only what he sees the Father doing. For whatever the Father does, that the Son does likewise. For the Father loves the Son and shows him all that he himself is doing. And greater works than these will he show him, so that you may marvel." (John 5:19-20)

"Whoever has seen me has seen the Father. How can you say, 'Show us the Father'? Do you not believe that I am in the Father and the Father is in me? The words that I say to you I do not speak on my own authority, but the Father who dwells in me does his works. Believe me that I am in the Father and the Father is in me, or else believe on account of the works themselves. Truly, truly, I say to you, whoever believes in me will also do the works that I do; and greater works than these will he do, because I am going to the Father." (John 14:9-12)
The testimony from Jesus and the Apostles is clear: we are called to fulfill the original intention for which we were created which is to imitate the very nature and character of God. This is no small thing and in fact is being anticipated with deep longing by all creation itself:
The Spirit himself bears witness with our spirit that we are children of God… For the creation waits with eager longing for the revealing [apocalypse] of the sons of God. For the creation was subjected to futility, not willingly, but because of him who subjected it, in hope that the creation itself will be set free from its bondage to corruption and obtain the freedom of the glory of the children of God. For we know that the whole creation has been groaning together in the pains of childbirth until now. (Romans 8:16-22)
The whole point of the revelation of Jesus Christ was to act as the catalyst for the revelation of True Humanity! There can be no final fulfillment of end-times prophecy until we experience the FULLNESS of the apocalypse of the children of God! This is why it is so critically important for us to ask, "What is God like?" There can be no true revelation of humanity until we GET GOD RIGHT, and when we get God WRONG we delay the apocalypse.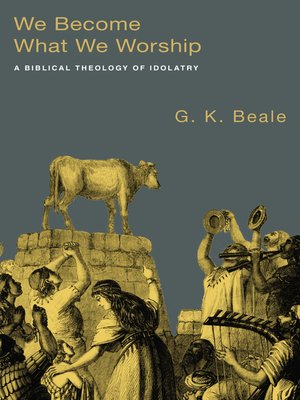 Getting God wrong is called IDOLATRY. Psalm 115:8 says that all those who make idols shall become like them, and the idea that "we become what we worship" runs throughout the entire Bible. For a good in-depth study of this concept see the book by G. K. Beale. The author makes a good case that the original sin was in fact idolatry. Eve was convinced that God's nature and character was something other than what it truly was, and this caused her to reach out for the forbidden fruit. We are all born human and our destiny and purpose is to become like God, while our greatest danger is that we might be deceived into believing something false about God, falling into idolatry and sin.
The new and radical revelation about God that was delivered by Jesus (prior to which no human was able to truly walk in divine life), is that God is love. Not that God can love, which the Old Testament saints understood, but that God is love and His love is unconditional. The first time in Scripture where this fact is stated plainly is in the "love epistle" of First John (4:8 and 4:16). John then concludes his epistle by repeating that this NEW information about the true nature and character of God was a divine revelation given to us through Jesus, before ending with a final warning:
We know that everyone who has been born of God does not keep on sinning, but he who was born of God protects him, and the evil one does not touch him. We know that we are from God, and the whole world lies in the power of the evil one. And we know that the Son of God has come and has given us understanding, so that we may know him who is true; and we are in him who is true, in his Son Jesus Christ. He is the true God and eternal life. Little children, keep yourselves from idols. (1 John 5:18-21)
The choice for humanity is clear: Embrace the truth about God delivered to us by Jesus and live as imitators and children of God, or fall into idolatry. It is truly a choice between Life and Death.
"I am the way, and the truth, and the life. No one comes to the Father except through me. If you had known me, you would have known my Father also. From now on you do know him and have seen him." (John 14:6-7)

"My sheep hear my voice, and I know them, and they follow me. I give them eternal life, and they will never perish, and no one will snatch them out of my hand. My Father, who has given them to me, is greater than all, and no one is able to snatch them out of the Father's hand." (John 10:27-29)

"But you are not to be called rabbi, for you have one teacher, and you are all brothers. And call no man your father on earth, for you have one Father, who is in heaven. Neither be called instructors, for you have one instructor, the Christ." (Matthew 23:8-10)
The world has seen enough idols already! Man-made religion has seen its day and the fruit of false images of God has proven to be toxic. The Truth offered to us in Jesus alone is the antidote!
The early Church Father Athanasius of Alexandria (296-373 CE) famously wrote in On the Incarnation that Jesus "… assumed humanity that we might become God." For Athanasius and for all the great leaders of the early church the very purpose of the Incarnation was to elevate mankind into a place of unity with God.
Does this sound unbelievable or heretical? Some interpret the story of the Fall as Eve being deceived by the "lie" that we can become like God (Genesis 3:5). I think this is a terrible interpretation of what is being portrayed. The lie was not that Eve could be like God, rather the lie was that God was holding something back and forbidding Eve from reaching her full potential! If the possibility to be like God was a lie then Paul had no business teaching the Ephesians to be imitators of God, and Jesus had no business living His human life imitating exactly what the Father was saying and doing, and then telling us, "You can do it too!"
The early Christian teaching on theosis or deification is covered in great detail in Partakers of the Divine Nature. Titled after the promise given in 2 Peter 1:4 this collection of articles from various scholars shows the orthodoxy of the idea that "Man can become God," and its history over the last two millennia of the Christian tradition.
This doctrine must be firmly rooted in correct ideas about God. If one thinks of God as a merciless judge in the sky, always seeking His own glory, while arbitrarily executing omnipotent power throughout His creation, then to be "like God" becomes very problematic and prideful. But what if we take our cues from Jesus on the true nature of God? Then to be "God-like" becomes something different entirely!
For instance, consider the testimony of Polycarp (69-155 CE), Bishop of Smyrna, a man who was taught by the Apostles, who became the most influential second generation Christian leader and then finally died a martyr's death in Rome. Sometime near the end of his life he wrote a letter to the powerful pagan Diognetus family of ancient Smyrna. This is what it means to be "like God," as explained in his Epistle to Diognetus:
If this faith is something that you wish to pursue then first you must seek knowledge of the Father. For God loved mankind, and made the world for them, subjecting all things on earth to them. To them he gave reason and understanding and to them alone he gave the capacity of looking up to him, who created them in his own image. To them he sent his one and only Son and to them he has promised the Kingdom of Heaven, given to those who love him.

And when you have received this knowledge, imagine the joy that will fill you! Think of the love you will have for the one who first loved you! By loving him you will then become an imitator of his goodness. Do not be shocked that a human being can become an imitator of God! He can, because this is God's will!

It is not by dominating one's neighbors, or by desiring to have an advantage over the weak, or by being rich and exercising power over one's inferiors that brings happiness. And it is not by any of these things that anyone can imitate God, because these things are contrary to his majesty. Rather, it is the one who takes upon himself the burden of his neighbor, who being better off always does well to those who are worse off, and who, having received the things of God then goes on to provide them to those in need, who becomes a god to those receiving. This is how one becomes an imitator of God.
Why is it so important for us to know the true nature and character of God? Because as He is, so are we called to be, not just in the afterlife, but here and now in this world today!
"And we have seen and testify that the Father has sent his Son to be the Savior of the world. Whoever confesses that Jesus is the Son of God, God abides in him, and he in God. So we have come to know and to believe the love that God has for us. God is love, and whoever abides in love abides in God, and God abides in him. By this is love perfected with us, so that we may have confidence for the day of judgment, because as he is so also are we in this world. There is no fear in love, but perfect love casts out fear. For fear has to do with punishment, and whoever fears has not been perfected in love. We love because he first loved us." (1 John 4:14-19)
---
This is my first written blog post since October, 2017. Work was cancelled today because of the incoming Hurricane Lane, so I took some time to write down some of the thoughts that have been on my heart. Stay tuned for Part Two, and also check out my new podcast, New Horizons, on the Fringe Radio Network. Session One with John McMahon was recorded on June 17 and there will be more to come!
Peter Goodgame
August 23, 2018
Kailua, Hawaii
"What an astounding declaration that the invisible (and therefore difficult to imitate) God is made visible in the person of Jesus (see John 1:18, Colossians 1: 15). Jesus demonstrates what a God of love looks like and therefore makes the imitation of God a real possibility. We have an actual model of who God is. Consequently, we can find a different reference for our actions, speech and desires than the social cycles we are part of. The ancient and very human wisdom of loving our friends and hating our enemies is overturned by a God who is kind to the righteous and the unrighteous, a God who makes his sun to rise and rain to fall on all with the same generosity. The most radical conclusion of Jesus' message is to imitate our Father and love our enemies." – Andre Rabe
We become what we behold!